12 French Soufflés - Cheese
A refined and greedy appetizer. Start your party with these delicious bites that are sure to enliven everyone's appetite! An original French recipe made with emmental cheese for more greed. A "home made" and fancy presentation in small paper cups.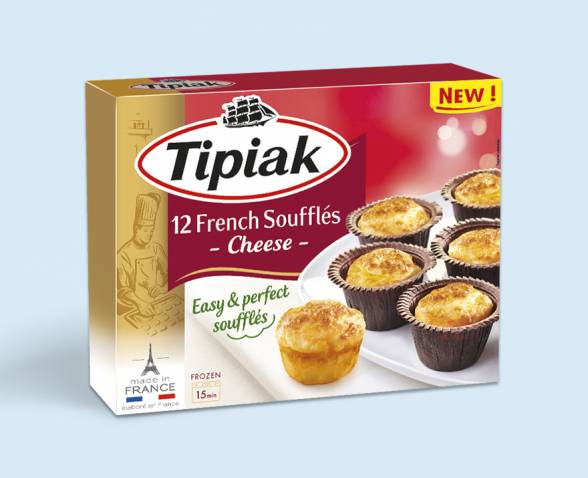 Product preparation
Product preparation
Preheat the oven to 180°C. Remove the protective film.
Put the tray onto a baking sheet and place on the centre shelf of the oven (the cardboard tray and paper cases are OVENPROOF).
Bake for 15 to 18 minutes until the mini-soufflés are golden and well-risen. DO NOT OPEN THE OVEN WHILE THE SOUFFLÉS ARE BAKING.
Leave to cool for 5 minutes and remove each mini-soufflé from the cardboard tray.
Adapt the cooking time to suit your oven.
You will find this product in the frozen department of your supermarket.
Ingredients
Water, Emmental 24%, liquid cream, rapeseed oil, manioc fecula, wheat flour, powdered whole milk, powdered whole egg, powdered egg white, salt, white pepper, antioxidant: rosemary extract, nutmeg 0.01%.
Allergens to be declared under labelling requirements are shown in bold in the ingredients list.
May contain traces of: celery, sesame, fish, molluscs, crustaceans, nuts, soy.
Storage: Until the date printed on the box at – 18°C in the *** compartment of your refrigerator or in your freezer. ONCE FOOD IS THAWED DO NOT REFREEZE. MADE IN FRANCE.
Nutritional values
Average nutritional values for 100 g:
Energy : 1259 kJ /304 kcal
Fat : 25 g of which saturates : 8.4 g
Carbohydrate : 7.4 g of which sugars : 3.1 g
Fibre : 2.6 g
Protein : 11 g
Salt : 0.8 g