Organic wholewheat Couscous
We have selected this durum whole wheat semolina, pre-cooked by steam, to make this couscous full of flavours and of nutritional benefits: Organic wholewheat Couscous.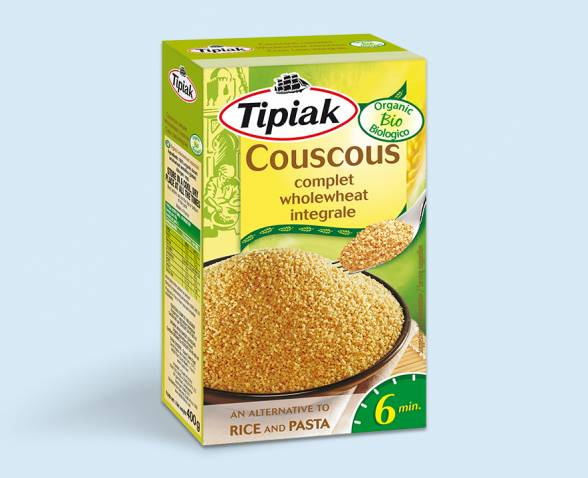 Product preparation
Product preparation
Ready in only 6 minutes!
Pour the wholewheat couscous in a serving dish.
Add the same volume of salted boiling water, 1 knob of butter, and mix.
Cover and allow to absorb for 6 minutes.
Fluff and serve straightaway.
Ingredients
Simple and authentic ingredients!
Our wheat is whole grains preserved in their protective kernel.They contain fibres and minerals that are necessary for our diets and benefit our healthy lifestyles. TIPIAK Organic Whole wheat Couscous is therefore rich in fibres and phosphorous, and guarantees you a source of iron and magnesium.
Discover cuisine from home and from far away!
Tipiak organic wholewheat couscous is made in France from durum wheat and farmed under the organic agriculture method. It reflects Tipiak's brand values for healthy and natural eating.
A guaranteed delight!
Discover its lightness, full-bodied taste, and attractive amber colour. Used as a side dish or as a base in salads.Ready in 6 minutes, TIPIAK Organic Whole wheat Couscous is a gourmet partner that helps you balance your meals.
Organic durum wholewheat semolina.
Contains gluten.
May contain traces of eggs.
 
Nutritional values
Nutrition information - Per 100 g:
Energy 1467 kJ - 346 kcal
Protein 13,6 g
Carbohydrate 68,2 g
Fat 2,1 g