8 Mini Scallops* Gratins
A refined and greedy appetizer. Start your party with these delicious bites that are sure to enliven everyone's appetite! Served in a natural sea shell for a refined presentation, discover these scallops* prepared with a delicate sauce made with mushrooms, shallots, white wine and cream. A convenient tray, ideal for the oven.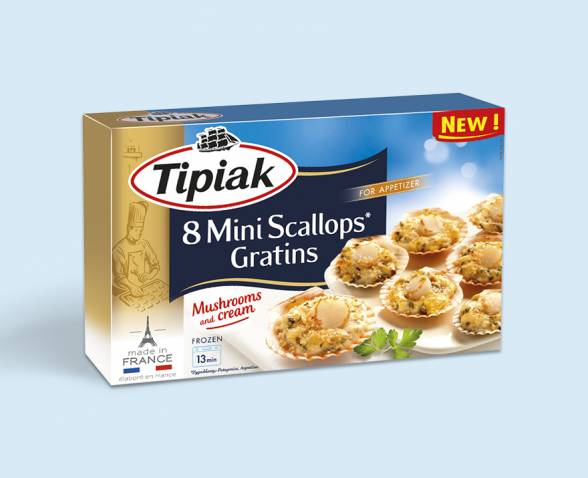 Product preparation
Product preparation
Preheat the oven to 180°C.
Peel off the film. Place the tray of mini gratins in the middle of the oven (this tray is supplied and keeps the gratins flat during the heating).
Heat for 13 minutes.
Do not thaw in the microwave.
You will find this product in the frozen department of your supermarket.
Ingredients
Water, scallops* 26.6% (*Zygochlamys patagonica, Argentina), button mushrooms 14.7% (button mushrooms, water, salt, acidulant: citric acid, antioxidant: ascorbic acid), liquid cream 10.3%, shallots 3.9%, modified manioc starch, white wine 2.9%, butter 2.5%, breadcrumbs 1,4% (wheat flour, whole weat flour, yeast, salt), Cognac 1%, powdered skimmed milk, salt, garlic, natural shellfish flavouring, parsley 0.1%, tomato concentrate, pepper, turmeric.
Allergens to be declared under labelling requirements are shown in bold in the ingredients list.
May contain traces of: egg, celery, sesame, fish, soy, nuts.
* Scallop species and origin: Zygochlamys patagonica – Argentina.
Storage: Until the date printed on the box at -18°C in the *** compartment of your refrigerator or in your freezer. ONCE FOOD IS THAWED DO NOT REFREEZE. MADE IN FRANCE.
Nutritional values
Average nutritional values for 100 g:
Energy : 399 kJ /96 kcal
Fat : 5.4 g of which saturates : 3.9 g
Carbohydrate : 5.7 g of which sugars : 1.7 g
Fibre : 0.5 g
Protein : 5.8 g
Salt : 0.9 g