Basket of plain round Croutons
With its easy opening and its self-adhesive lid, the Tipiak Basket of plain Croutons is the ideal accompaniment for your family meals: just put it on the table and help yourself !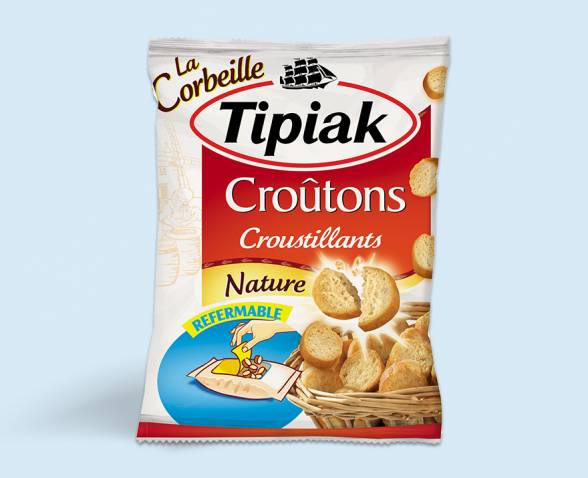 Product preparation
Product preparation
Just sprinkle on your soup!
Open and serve straightaway!
Ingredients
Simple and authentic ingredients!
Since the beginning, Tipiak has been perpetuating a special savoir-faire in roll-making: the dough mixing, dough-shaping and the baking of long slim rolls.
Discover cuisine from home and from far away!
Traditionally, soup was consumed with roll. During the XII° century, soup used to represent the sliced roll on which a boiling vegetable broth was poured.
A guaranteed delight!
Thanks to a unique savoir-faire Tipiak brings the maximum crispiness to your croutons: a raised dough, well baked, and the oil guarantees a great lasting crispiness.
Wheat flour, sunflower oil, bread-making mix (wheat flour, wheat bran, gluten, malted wheat flour, flour treatment agent: ascorbic acid, enzymes), yeast, salt, wheat bran, antioxidant:rosemary extract.
Traces of milk