Couscous Gourmet
All the nutritional benefits of cereals (wheat, barley and oats) combined with vegetables (lentils, green peas, lupin beans, carrots and leeks). A rich and tasty recipe that meets today's consumers expectations.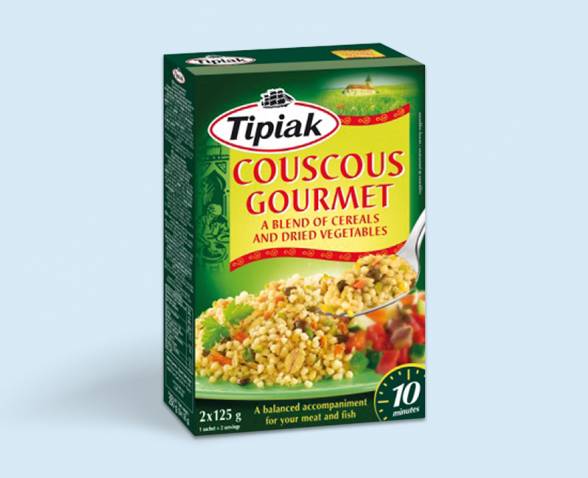 Product preparation
Product preparation
Bring 200 ml of water to a boil in a frying pan.
Remove from heat, pour the content of the sachet into the pan and add a knob of butter.
Mix, cover and allow the mixture to absorb the water for 9 min. Re-heat the mixture for 1-2 minutes on low heat, stirring regularly with a fork.
Ingredients
Precooked durum wheat semolina (gluten) (69 %), precooked dehydrated lentils (6.6 %), flavour (gluten), ground lupin, dehydrated carrots (3.7 %), green pea flakes (3 %), sunflower oil, fried onions, barley flakes (gluten) (1.1 %), oat flakes (gluten) (1.1%), dehydrated leeks.
May contain traces of milk, egg, soya, celery and mustard.
Nutritional values
Nutrition information - Per 100 g:
Energy 1519 kJ - 359 kcal
Protein 15 g
Carbohydrate 61 g
Fat 3,5 g