Couscous with lemon and mint
Capture the essence of holidays in the sun by bringing the very best flavours and ingredients of the Mediterranean into your kitchen with this Greekstyle Couscous.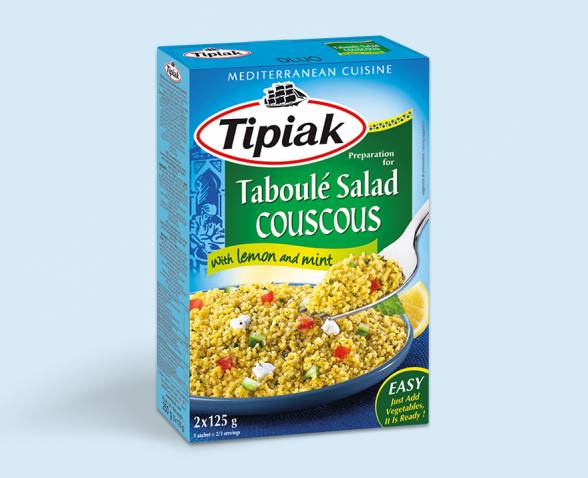 Product preparation
Product preparation
Ready in only 5 minutes!
Place one bag into a medium sized bowl.
Pour over 150ml boiling water.
Cover with clingfilm and leave to stand for 5 minutes.
Seperate the grains with a fork.
Serve warm as a hot accompaniment or allow to cool and make an original salad with your choice of added ingredients.
Ingredients
Simple and authentic ingredients!
Greek style Couscous with its added lemon juice, mint, herbs and extra virgin olive oil is perfect with fish, meat or vegetables.
Discover cuisine from home and from far away!
Since the dawn of time in the Maghreb region in North Africa, couscous has been consumed cold as Tabouleh. Tipiak has revived this authentic cuisine for you and is inspired to create a savoury couscous seasoned with mint and lemon.
A guaranteed delight!
Greekstyle couscous is ideal for creating quick, convenient and unusual dishes and refreshing exotic salads.
Made from pre-cooked durum wheat semolina, dehydrated lemon juice and mint and extra virgin olive oil (2,5%).
Pre-cooked durum wheat semolina (88%), salt, extra virgin olive oil (2,5%), onion powder, sugar, acidifier: citric acid, dehydrated parsley, natural mint, flavour (colouring: paprika extract) dehydrated mint, maltodextrin dehydrated concentrated lemon juice (equivalent to 2,3% lemon juice), curucuma.
Contains gluten.
May contain traces of milk, egg, soya, fish, shellfish, celery, mustard, lupin, sesame.
Nutritional values
Nutrition information - Per 100 g:
Energy 1523 kJ - 359 kcal
Protein 11,5 g
Carbohydrate 70,7 g
Fat 3,4 g
Per serving:
Energy 533 kJ - 126 kcal
Protein 4 g
Carbohydrate 24,7 g
Fat 1,2 g