Plain cubic Croutons
Tipiak invites you to discover authentic ingredients from here and elsewhere, and draws its inspiration from it everyday to create a unique collection of Croutons from a pastry-cook's savoir-faire, to add crispiness to all of your recipes!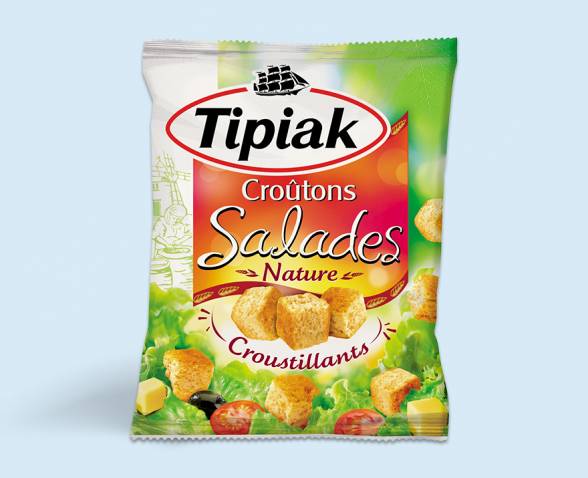 Product preparation
Product preparation
Just sprinkle on your salad!
Open and serve straightaway!
Ingredients
Simple and authentic ingredients!
A kneaded then shaped special dough for rolls, baked and sliced in cubes, which are lastly oven-grilled.
Discover cuisine from home and from far away!
Originally, an Italian chef had the idea of mixing romaine lettuce with small croutons to create the 'Caesar' Salad.
A guaranteed delight!
Thanks to a unique savoir-faire Tipiak brings the maximum crispiness to your croutons: a raised dough, well baked, and the oil guarantees a great lasting crispiness.
Wheat flour, vegetable oils (including sunflower oil (8,7%) ), lactose, salt, yeast, sugar, extract of barley malt, milk protein, colouring: paprika extract.
Nutritional values
Nutrition information - Per 100 g:
Energy 1884 kJ - 445 kcal
Protein 9,5 g
Carbohydrate 71,1 g
Fat 12,2 g