Wok Boulgour et légumes cuisinés (cooked vegetables)
An original and greedy mix of bulgur, grains and vegetables. This new generous recipe combines the original texture of bulgur seeds and a well-balanced mix of vegetables: mushrooms, carrots, broccolis and cabbage kale. A stir fry already cooked which is the perfect side dish to serve alongside your meat, fish or poultry! A convenient format in bag, portionnable according to needs and ready in 9 minutes!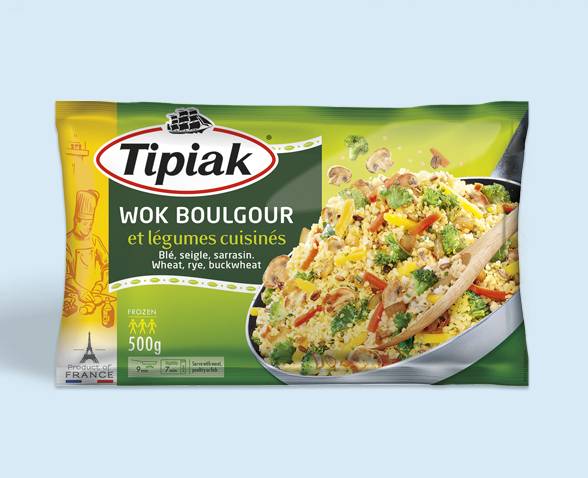 Product preparation
Product preparation
To stir-fry:
Pour he desired quantity into a hot pan, without adding any fat. Heat, covered, at high temperature for the indicated time stirring frequently.
For 170g: 4 minutes
For 340g: 5 to 6 minutes
For 500g 8 to 9 minutes.
In the microwave:
Reheating in the microwave possible during 7 minutes at maximum power for 500g and during 5 minutes for 340g. Mix halfway through cooking and before serving. Adjust the cooking time to your equipment. 
Ingredients
Button mushrooms 19,9%, cooked bulgur wheat 14,3%, durum wheat semolina 11,2%, carrots 9%, yellow carrots 9%, cooked hulled buckwheat 6,1%, broccoli 6%, pre-fried onions 6% (onions, sunflower oil), water, kale 4%, white wine 3,3%, olive oil, rapeseed oil, malted rye flakes 0,8%, salt, parsley 0,4%, chives 0,4%, butter 0,3%, natural flavoring.
Allergens to be declared under labelling requirements are shown in bold in the ingredient list. Possible traces of: egg, celery, sesame, fish, molluscs, shellfish, mustard, soya, nuts.
Storage: Until the date printed on the box at -18°C in the *** compartment of your refrigerator or in your freezer. ONCE FOOD IS THAWED DO NOT REFREEZE. MADE IN FRANCE.
Nutritional values
Average nutritional values for 100 g:
Energy: 488 kJ /116 kcal
Fat: 4.2 g of which saturates: 0.7 g
Carbohydrate : 15 g of which sugars: 2.2 g
Fibre: 2.5 g
Protein: 3.4 g
Salt: 0.74 g