Boulgour
Tipiak invites you to discover a traditional product from the Balkans, Boulgour combines the benefits of cereals and the authentic and natural taste of raw wheat.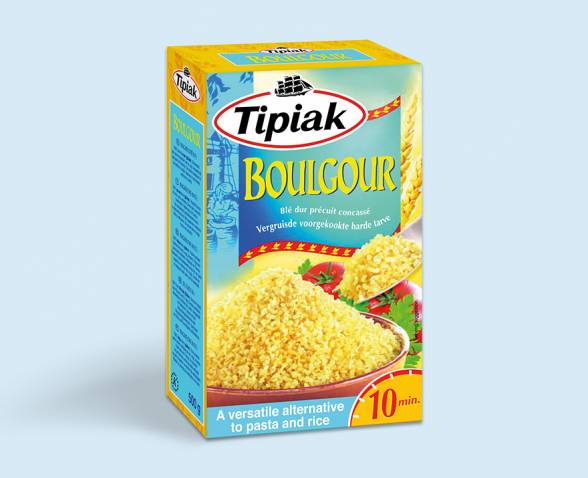 Product preparation
Product preparation
Ready in only 10 minutes !
Melt some butter in a frying pan and then brown the bulgar wheat over high heat.
Add twice as much water as wheat and when it starts boiling, reduce the heat and cook for 10 minutes
Ingredients
Simple and authentic ingredients!
Boulgour, whole durum wheat that has been pre-cooked, dried and crushed, is an essential foodstuff naturally rich in protein, minerals and fibre.
Discover cuisine from home and from far away!
Bulgur, also called bulghur or burghul, is most commonly consumed in countries like Armenia, Bulgaria and Turkey, where it is used in various salads or as the base of a soup made with yogurt, Tarhana.
A guaranteed delight!
Tipiak recognises the importance of using whole grain wheat for maximum benefit and it pre-cooks and dries the whole grain to produce a store cupboard staple ingredient.
Whole durum wheat (100%). Contains gluten.
May contain traces of egg, soya and sesame.
Nutritional values
Nutrition information - Per 100 g:
Energy 1428 kJ - 337 kcal
Protein 12,2 g
Carbohydrate 76,6 g
Fat 1,7 g
Per serving:
Energy 856 kJ - 202 kcal
Protein 7,3 g
Carbohydrate 46,0 g
Fat 1,0 g