Breadcrumbs
Tipiak Breadcrumbs are made from crushed continental toast. They can enhance your everyday cooking, as a topping for grilling, sprinkled over scallops in their shells and for stuffing vegetables.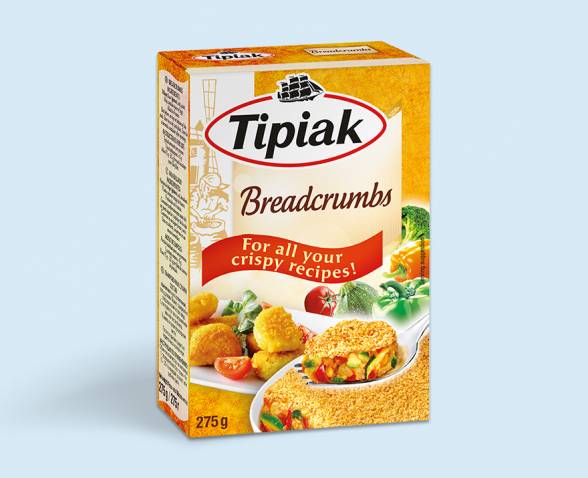 Product preparation
Product preparation
Sprinkle and it's ready!
Typical amounts per person: 1 tablespoon = 6 g
Allow 15 g - 20 g for each escalope or fish fillet.
Stuffings: for stuffed vegetables or cakes, mix the breadcrumbs into the stuffing or dough.
Toppings: sprinkle the breadcrumbs generously over stuffed vegetables, made-up fish dishes... and brown in the oven.
Coatings: dip the escalopes or fish fillets in beaten egg, then in breadcrumbs. Shallow fry in butter or oil.
Ingredients
Simple and authentic ingredients!
Simple breadcrumbs are carefully selected to get an ideal texture for the best meat and fish breadcrumb dressings.
Discover cuisine from home and from far away!
Traditionally, the custom was to remove the bread crust, the crispiest part of it.
A guaranteed delight!
Thanks to a true savoir-faire we guarantee you a steady and perfect crispiness, and make cooking easier for yourself: coated dishes become quicker and more convenient to make.
Wheat flour, salt, yeast.
Contains gluten.