Garlic round Croutons
Probably the crispiest, those Garlic Croutons will allow your children and all family to bring a touch of delicacy to soups and salads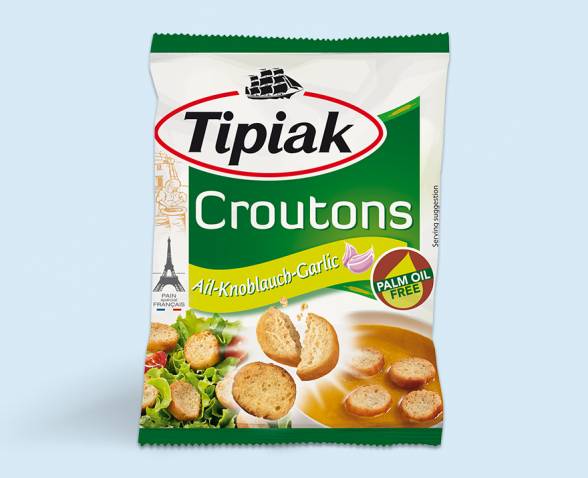 Product preparation
Product preparation
Just sprinkle on your soup!
Open and serve straightaway!
Ingredients
Simple and authentic ingredients!
Since the beginning, Tipiak has been perpetuating a special savoir-faire in roll making: the dough mixing, dough-shaping and the baking of long slim rolls.
Discover cuisine from home and from far away!
Traditionally, soup was consumed with a roll. During the XII° century, soup used to represent the sliced roll on which a boiling vegetable broth was poured.
A guaranteed delight!
Thanks to a unique savoir-faire Tipiak brings the maximum crispiness to your croutons: a raised dough, well baked, and the oil guarantees a great lasting crispiness.
Wheat flour, sunflower oil, salt, yeast, natural garlic flavour (1%) (flavour enhancer: monosodium glutamate), antioxidant: rosemary extract. Traces of milk.