Couscous
Resulting from the best durum wheat, the Tipiak Standard Couscous has always been produced with rolled, steam cooked, dried and sieved semolina.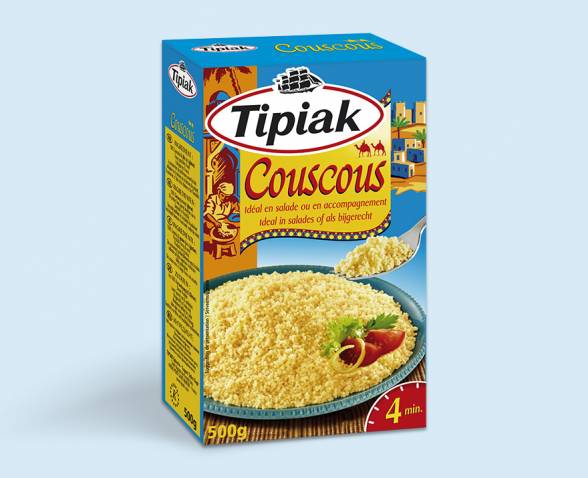 Product preparation
Product preparation
Ready in 4 minutes!
In a frying pan, bring 250 ml of salted water to the boil, adding a teaspoonful of oil per serving.
Remove from the heat and pour in 250 g of couscous, gently stirring.
Leave to fluff up for 4 minutes.
Add a knob of butter and cook over low heat for 3 to 4 minutes, regularly stirring with a fork.
Ingredients
Simple and authentic ingredients!
Very quick and easy to prepare, this couscous goes very well with meat or fish and with all sorts of vegetables for stuffings and gratins. It also is an ideal base for sweet or savoury salads.
Discover cuisine from home and from far away!
Of a Berber origin, couscous is daily consumed in Northern Africa. Synonymous with generosity, it brings together family and friends around the table.
A guaranteed delight!
Simple to prepare, this standard couscous is the ideal dish to serve with meat, fish and vegetables.
100% durum wheat semolina.
Contains gluten.
May contain traces of egg.
Nutritional values
Nutrition information - Per 100 g:
Energy 1567 kJ - 369 kcal
Protein 13 g
Carbohydrate 72,4 g
Fat 1,7 g
Per serving:
Energy 972 kJ - 229 kcal
Protein 8 g
Carbohydrate 45 g
Fat 1,05 g