Couscous with spices
Capture the essence of holidays in the sun by bringing the very best flavours and ingredients of the Mediterranean into your kitchen with this Spicy Couscous.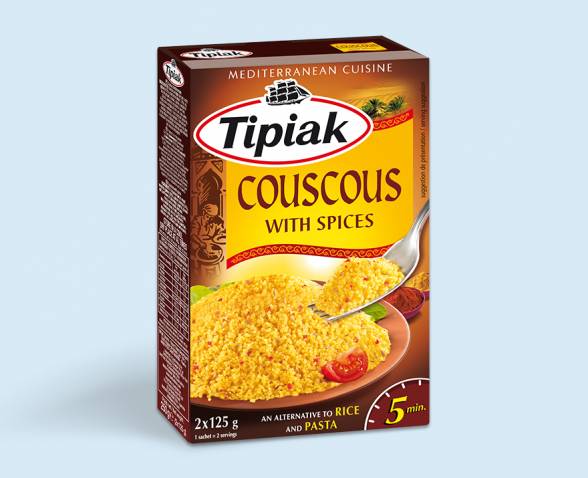 Product preparation
Product preparation
Ready in only 5 minutes!
Place one bag into a medium sized bowl.
Pour over 150 ml (5,5 fl oz) of boiling water.
Cover with clingfilm and leave to stand for 5 minutes.
Separate the grains with a fork. Serve warm as a hot accompaniment.
Serve warm as a hot accompaniment.
Ingredients
Simple and authentic ingredients!
Made from the best durum wheat, this semolina has been rolled and pre-cooked by steam to obtain this delicious couscous grain.
Discover cuisine from home and from far away!
Of a Berber origin, couscous is consumed daily in Northern Africa. Synonymous with generosity, it brings together family and friends around the table.
A guaranteed delight!
Tipiak's know-how is shown in presenting this fluffy couscous grain, flavoured with a selection of spices that remind us of Eastern flavours.
Pre-cooked durum wheat semolina (92%), spices (1,8%), salt, vegetable oil (sunflower or rapeseed), flavourings, paprika, glucose syrup, cumin seeds, dextrose.
Contains gluten, milk, celery.
May contain traces of eggs, soya; fish, shellfish, molluscs, nuts, mustard, lupin, sesame.
Nutritional values
Nutrition information - Per 100 g:
Energy 1520 kJ - 359 kcal
Protein 13 g
Carbohydrate 67,9 g
Fat 3,9 g
Per serving:
Energy 950 kJ - 224 kcal
Protein 8,12 g
Carbohydrate 42,4 g
Fat 2,4 g