Couscous with tomatoes and provencal herbs
Capture the essence of holidays in the sun by bringing the very best flavours and ingredients of the Mediterranean into your kitchen with this Frenchstyle Couscous.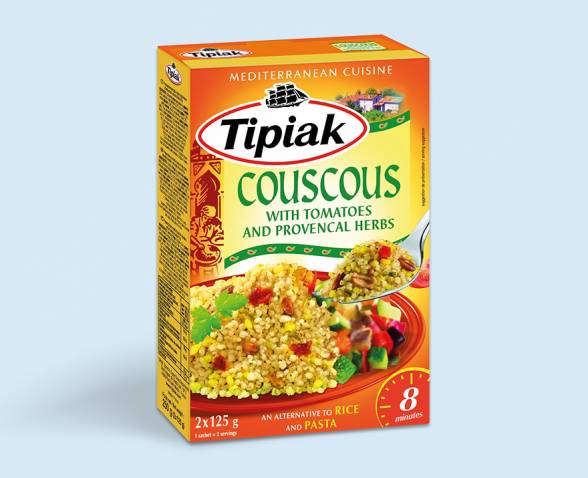 Product preparation
Product preparation
Ready in only 8 minutes!
Place one bag into a medium sized bowl.
Pour over 150 ml (5,5 fl oz) boiling water.
Cover with clingfilm and leave to stand for 8 minutes.
Separate the grains with a fork.
Serve warm as hot accompanimient.
Ingredients
Simple and authentic ingredients!
Tipiak is selecting only the best durum wheat as the base for this French style couscous and adds roasted tomatoes, herbs and olive oil.
Discover cuisine from home and from far away!
Enjoy the savoury mix of couscous and baby vegetables cooked in sun-drenched Provençal herbs.
A guaranteed delight!
Simple to prepare, French Style couscous is the ideal dish to serve with meat, fish and vegetables.
Precooked Durum wheat flour (66%), pre-cooked corn meal (9.7%), rye  malt flakes (3%), flavouring, sauce 2.8% (garlic 1.8%, parsley 1%) dried red peppers (1%), extra virgin olive oil (1%), sunflower oil, natural flavouring, salt, cinnamon (0.2%), Provence herbs.
Contains gluten and celery.   
May contain traces of milk, egg, soya, fish, sellfish, molluscs, nuts, mustard, sesame and lupin.
Nutritional values
Nutrition information - Per 100 g:
Energy 1622 kJ - 383 kcal
Protein 11,9 g
Carbohydrate 73 g
Fat 4,8 g
Per portion:
Energy 1010 kJ - 239 kcal
Protein 7,4 g
Carbohydrate 45,6 g
Fat 3 g