Express couscous
A perfectly cooked couscous, ready in 1min 30, thanks to the boil-in-bag format. An easy way to discover couscous!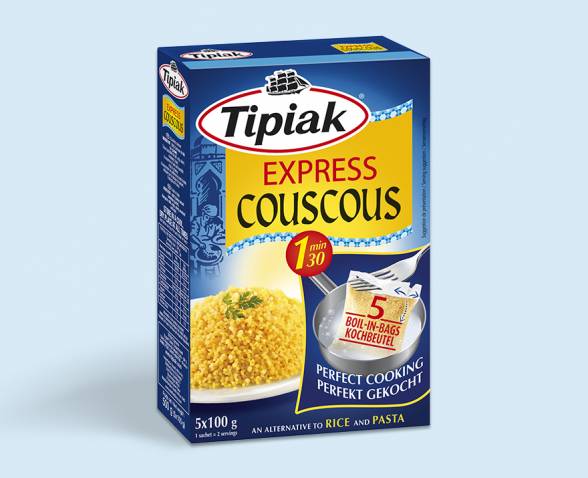 Product preparation
Product preparation
Ready in only 1 1/2 minutes!
In a saucepan, bring 1 ½ liter of salted water to a boil and fully dip the boil-in-bag in the boiling water. Cook over high heat for 1 ½ min.
Remove the bag from water using a fork and leave to drain.
Open the boil-in-bag by pulling on the pre-cut part, pour the content in a dish. Add butter and stir with a fork. Serve immediately.
Ingredients
Simple and authentic ingredients!
Couscous is ideal in salads or as an accompaniment to any grilled or roasted meat, fish or chicken.
Discover cuisine from home and from far away!
Tipiak is selecting only the best durum wheat for those couscous boil-in bags, and combines its savoir-faire with the convenience of a very quick and easy to prepare product.
A guaranteed delight!
Sensational as accompaniment to meat and fish, delicious used to stuff all sorts of vegetables, making them moist, or use as a topping. Excellent in vegetable and fruit salads.
100% Durum wheat semolina (gluten).
May contain traces of milk, soya, celery, mustard, lupin.
Nutritional values
Nutrition information - Per 100 g:
Energy 1532 kJ - 361 kcal
Protein 13 g
Carbohydrate 72 g
Fat 1,8 g